Starquake Update: 19/10/2012: Two new nasties
Just a quick update for you to enjoy over the weekend, complete with video no less (I know how much more interesting videos are). This week I've been mainly bug fixing some of Blob's interaction routines and improving the nasty AI in my Starquake remake. Sadly none of that gives you anything to look at so I decided to finish the week off by adding a couple of new nasties. Without further ado, I'm very proud to introduce… The ghost nasty and… the um… helmet nasty. To be honest I don't really know what this guy is supposed to be in the original game, and he looks a bit like an American footballer's helmet – hence the name. I've actually given him a bit of a face-lift and he now looks like a naked mole rat (note the unfortunate teeth). For better or worse, and as unfortunate as he looks, he's still very much able to annoy Blob as the following video demonstrates: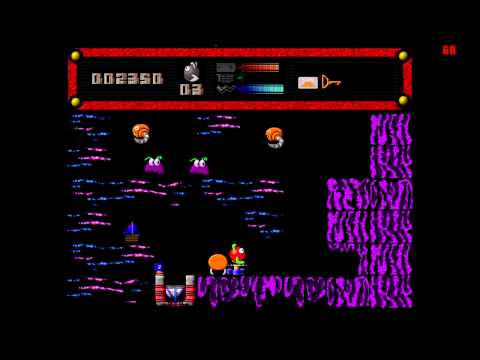 This is the first video I've done with a voiceover which I'm hoping will give you a bit more insight into what I was thinking.